Coast Spas Hydro Therapy Hot Tubs and Swim Spas
Coast Spas manufactures 15 different hot tubs across three collections. The variety of models offered has a solution to fit any space, meaning you can find the perfect spa to suit your needs. For example, there are the hot tubs in the Curve and Infinity collections, ranging in size from 4 seats all the way up to 8!  If you need more space, you will find it in the 
Swim Spa collection
. Exercise pools that start at 13 feet long and go to 21 feet in spa luxury.
Lifetime Shell
5 Years Cabinet
4 Years Heater
3 Years Frame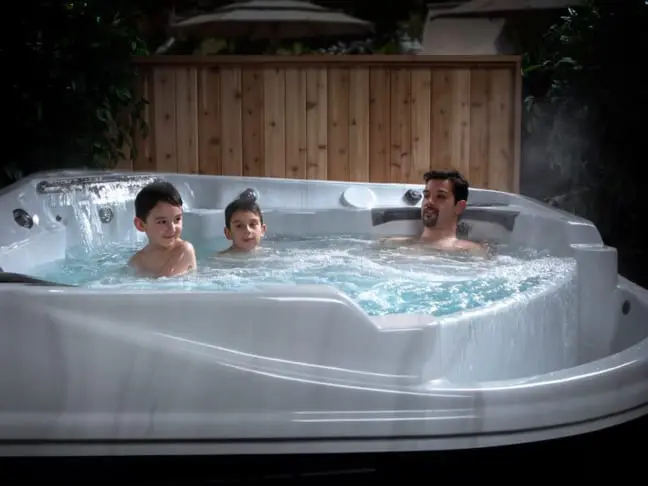 A collection of systems from 4-8 person hot tubs!
Featured Coast Spa Models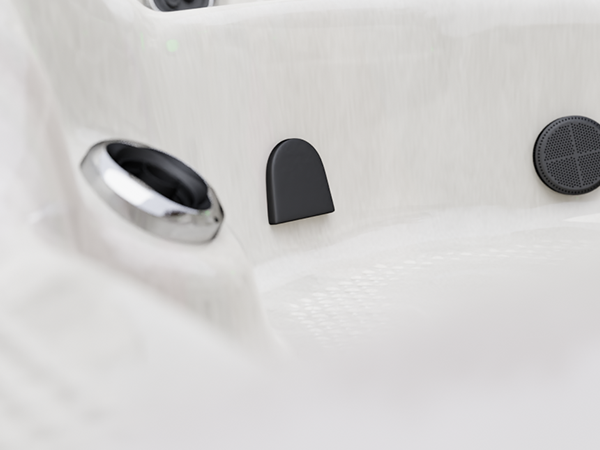 Self Cleaning Sweeper Jet
No matter how dirt gets into your hot tub, the last thing you want is it sticking around and collecting at the bottom. Coast Spas designed their Sweeper Jet to fight settled dirt that the filters can't reach. During the filtration cycle, the sweeper jet activates and loosens settled dirt so the filters can get it out of your tub. This little addition is crucial in keeping your hot tub clean, comfortable, and enjoyable. 
Shells Reinforced With Steel
Coast Spas believe their acrylic shells are one of the strongest on the market. The layered design uses multiple sheets of fiberglass compressed under a thick outer layer of acrylic that provides a smooth finish that conforms to your body while you soak. Coast Spas top this off by reinforcing any weak points of the shell with steel! This ensures the shell will stay strong over the life of your hot tub or swim spa! These great features come together to make a beautiful spa that you will enjoy for years.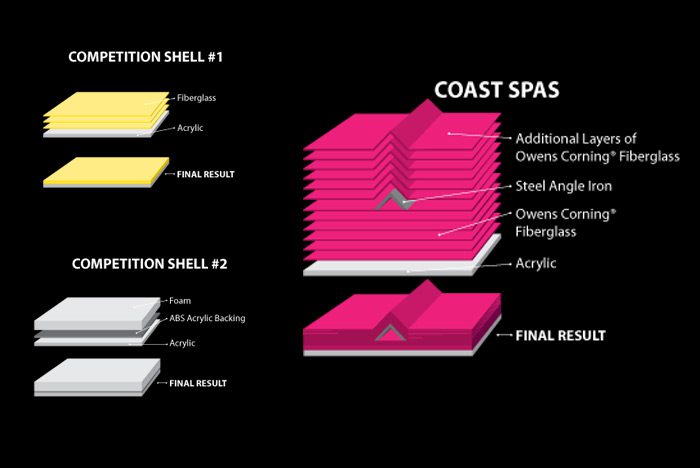 Coast Spas Shells Are
Designed To Last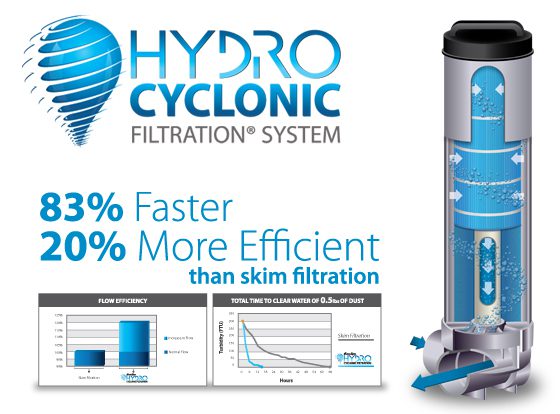 Pressurized Hydro Cyclonic Filtration
The filter system on all Coast Spas hot tubs and swim spas same style of filtration utilized in commercial-grade systems. With the largest hot tub filter on the market, capable of handling a 175 sqft capacity, this system is guaranteed to keep your tub free from contaminants. Since this filter is pressurized and completely removed from the bathing area, any pollutants that enter the filter system cannot make their way back to the swimming area. These filters outperform skimmer filtration systems that can recontaminate water after treatment.
The Curve collection features hot tub models with 4 to 8 spa chairs. In addition, some of the systems include a lounge-style chair, the perfect spot to melt your stress away. The raised backs on the Curve hot tubs provide added privacy and protection from the wind.
The Infinity collection's 6-8 seat hot tubs are the only systems available that feature an infinity edge, providing an uninterrupted view out across the front of your hot tub. These tubs also feature a higher back wall similar to the curve collection.
The Final Touches For Your Hot Tub or Swim Spa
Each Coast Spas' system comes ready to deliver a life-changing at-home spa experience to your backyard, and with just a couple of upgrades, you can truly get the most out of your spa. Whether you are looking at hot tubs or swim spas, you will benefit from superior insulation and sanitization.
The urethane used in the full-foam insulation upgrade will improve your tub's ability to maintain the ideal temperature. Additionally, this expanding foam will fill up your tub's cavity, increase the shell's integrity, and secure plumbing in place.
The sanitizing power of ultraviolet light is harnessed to keep your hot tub free from bacteria. This filtration system upgrade features a light spectrum precisely calibrated to eliminate 99% of all bacteria that passes through the Crystal Clear Purification Chamber.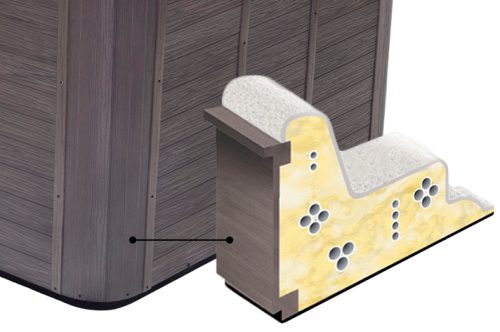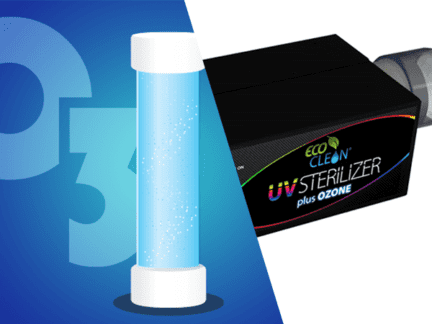 After getting your new hot tub installed, the last thing you want is to discover it doesn't work as designed or has a leak coming from somewhere. Thankfully, every Coast Spas hot tub comes with a warranty that features lifetime and term coverage for their hot tubs and swim spas.
Lifetime Structural Coverage
Coast Spa models come with a lifetime warranty on the structure of the acrylic shell. If a defect exists in the material that leads to water loss, then the tub will be repaired or replaced at the manufacturer's discretion.
3-5 Year Cabinet
The outer cabinet has a warranty as well, protecting your tub from any defects due to manufacturing or the materials used. While the wood cabinets have a 3-year warranty, the slate cabinetry comes with five years of coverage.
4 Year Heater
The heater that comes with a Coast Spas' system is not only covered against material and manufacturing defects for four years, but it also covers corrosion from water and chemicals used in the hot tub.
3 Year Frame
What good are cabinets and a tub if the structure fails? That's why the frame itself is protected from defects.